Dear colleagues and friends,
We would like to thank you for your participation in the 9th International Conference of Psychomotricity: Movement in the individual's development, which was held from the 10th to 11th April 2018 at the Department of Psychology, Faculty of Education, Jan Evangelista Purkyně University in Ústí nad Labem.
There were over 80 participants including members of the specialist public, specialists in pedagogy, psychology, physiotherapists, and also students and academicians from the FE UJEP participated.
The keynote foreign guests were Prof. Kallia Trouli (University of Crete, Greece), Geir Haakstad, Ruben Verpelstad (Oslo, Norway), and Mary-Anne Paterson (Great Britain). This year, the Czech authorities participating were doc. Hanka Dvořáková (FE, Charles University, Prague), and doc. Běla Hátlová (UJEP Ústí nad Labem).
In the course of the two days, the multifarious programme offered the participants the possibility to become familiarized with the psychomotor development of children of pre-school age in the CR (Hana Dvořáková) and in Crete (Kallia Trouli), and subsequently to try the individual developing activities themselves during afternoon workshops. We also presented psychomotricity of children of early school age (Tereza Louková) and of seniors (Vladislava Heřmanová). Towards the end of the first day we had a pleasant opportunity to practice body harmonizing exercises ThaiChi for seniors led by Lenka Semerádová.
Taking part in the social evening certainly was the right decision to make, since we could have enjoyed the musical performance by Marek Novotný (piano) and Pavel Dvořák (saxophone). The traditional improvised dance by Mirka Papajiková in red-and-black was simply breath-taking … .
On Wednesday we started with movement in the sphere of psychiatry. Běla Hátlová presented the results of the research into movement activities in outpatients diagnosed with schizophrenia and depressions. Terezie Jirásková from the Český rozhlas station prepared a short radio report (we are grateful for being able to listen to the report at: http://www.rozhlas.cz/zaznamy/plus#/2018-04-24/14). Our Norwegian colleagues Geir Haakstad and Ruben Verpelstad followed with their presentation of winter movement activities for outpatients in Norway. Wednesday afternoon was brought to a close with Mindfulness meditation led by David Karel. In the afternoon, we could apply ourselves to the anchorage method as a tool to enhance motivation for movement activity (Martin Dlabal), or to move to the gymnasium straight away to take inspiration in psychomotor games with the use of projective techniques by Renata Hajná. Projective techniques linked with movement were continued in the workshop "Who I am?" by Mirka Papajiková, as well as in experiencing and feeling 4 diverse kinds of temperament in the final workshop by Mary-Anne Paterson. Thanks to excellent translation rendered by Jana Tomečková and Filip Rudorf Lothar everybody could enjoy the contributions both in the Czech and English language. Last not least, we must not forget to appreciate the team of organizers (the girls in yellow PSYCHOMOT T-shirts) headed by Michala Linková.
Something has come into blossom again :).
INSPIRATION – SHARING EXPERIENCE – PSYCHÉ – MOVEMENT – DEVELOPMENT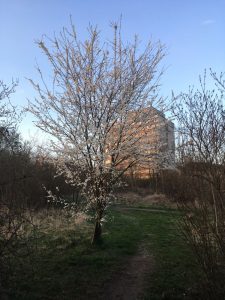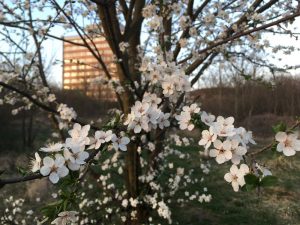 May the psychomotor experience settle down, amplify, and perhaps become implemented in some other way – that's my wish to everybody!
And hopefully see you again next year :).
On behalf of the organizing team,
 Tereza Louková